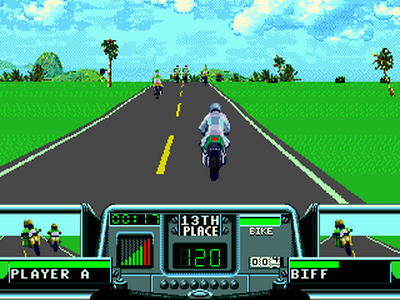 Road Rash III
Date added: 2014-09-30
Tags:None
Rated the best by our players
5 out of 5 based on 9780 ratings.
Game Information:
The final installment of Road Rash on the Mega Drive, Road Rash 3: Tour De Force was released in 1995. For the most part, this entry is separate from the earlier games. Races now take place across the world, each level featuring five of seven total locales: Brazil, the United Kingdom, Germany, Italy, Kenya, Australia, and Japan. In addition to the now standard fifteen bikes, four part upgrades are available for each. Eight weapons are available, and this game introduces the player's ability to hold on to weapons between races and the ability to accumulate multiple weapons. An "alpha" development version was found, featuring the title Road Rash 3: World Warriors, perhaps as a nod to Street Fighter II (which may have been why it was changed)
More games you may like...