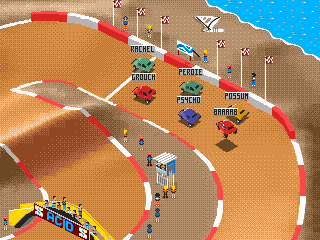 Super Skidmarks
Date added: 2014-09-30
Tags:None
Rated the best by our players
5 out of 5 based on 1700 ratings.
Game Information:
Super Skidmarks is a racing video game developed by Acid Software and released in 1995. The game is the sequel to Skidmarks and as such was also termed Skidmarks 2 and Super Skidmarks 2 by commentators. The game features "minimally realistic" action viewed from an isometric perspective as well as novelty vehicles such as wheeled cows and caravans. Various methods such as joypad adapters and link systems are employed to allow multiple players to compete, up to a maximum of 8. The game was critically acclaimed and a best-seller in the UK. Several upgrades to the Amiga original were released as well as conversions for the Amiga CD32 and Sega Mega Drive, the latter published by Codemasters.
More games you may like...