Dragon Ball Z: Buyū Retsuden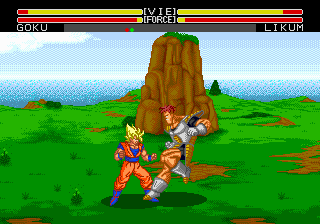 Dragon Ball Z: Buyū Retsuden
Date added: 2014-09-30
Tags:None
Rated the best by our players
5 out of 5 based on 191830 ratings.
Game Information:
Dragon Ball Z: Buyū Retsuden (ドラゴンボールZ 武勇列伝 Doragon Bōru Zetto Buyū Retsuden?, Dragon Ball Z: Intense Martial Transmission), released as Dragon Ball Z: L'Appel du Destin (Dragon Ball Z: The Call of Destiny?) in France and Spain and as Dragon Ball Z in Portugal, is a fighting game released for the Sega Genesis/Mega Drive based on the Dragon Ball franchise. It was released in Europe on January 1, 1994 and Japan on April 1, 1994. The distributor, Ecofilmes, would take Japanese copies of the game, replace the cover and the manual (but keep the cart), and sell the game as is, promising a free converter cart as the Japanese cartridges cannot fit into European Mega Drives. When the French version came out, they switched to using that version instead.
More games you may like...