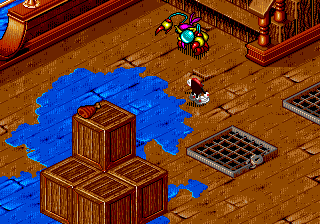 Pink Goes to Hollywood
Date added: 2014-09-30
Tags:None
Rated the best by our players
5 out of 5 based on 651 ratings.
Game Information:
The game, in both incarnations, is a 2D platformer. That spells it out that what little story there is can be summed up in one sentence: Pink has gone to Hollywood to audition for a role, but his nemesis isn't too keen on that and chases him through the MGM sets. Cue variable video game scenery! Y'know, I thought the Pink Panther's nemesis (the little moustached guy in the coat for those of you unaware) was Inspector Clouseau, from the films. But no, Wikipedia tells me he's simply called The Man. Political subtext ahoy! The titular panther can walk, run with a double-tap of the D-Pad, jump, and bop things with his boxing glove gun; collectible items include stars for points, hearts for health, an upgrade to the boxing glove's length, paw tiles for invincibility, and various symbol-bearing pink cards. If you have one of those and find a telephone booth, you can insert it to get a benefit of some variety - an umbrella to rise to high places, a magic carpet to fly anywhere within a designated area, or a staircase or platform made to reach new areas. Also in a shocking attempt to break the mould, Pink gives you a hub with seven stages to choose, and you can enter them in any order you please, though once you've entered you can't leave and choose another until it's finished.
More games you may like...