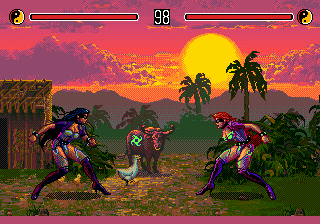 Eternal Champions
Date added: 2014-09-30
Tags:None
Rated the best by our players
5 out of 5 based on 2773 ratings.
Game Information:
Eternal Champions is a fighting game originally conceived by Scott Berfield, produced by Mike Latham for Sega of America, and developed by Sega Interactive Development Division in 1993. It was one of the only fighting games of its time developed from the ground up as a home console title, rather than being released in arcades first and later ported to home systems, as was the standard during that era. Sega released Eternal Champions for their Mega Drive/Genesis in 1993, hoping to capitalize on the fighting game mania that the game industry was in the midst of following the massive success of Street Fighter II (1991) and Mortal Kombat (1992). The game tried to set itself apart with unique features like a heavier emphasis on its story, characters pulled from different time periods, reflectable projectiles, force fields, fighters that carried weapons, a training mode where players had to defend themselves against robotic traps, a novel method of executing moves, and elaborate stage-specific finishing moves called "Overkills". Two years later, the sequel Eternal Champions: Challenge from the Dark Side (sometimes known as Eternal Champions CD or Eternal Champions 2) was released for the Mega-CD/Sega CD. There were also two spin-offs, action/adventure games set in the Eternal Champions universe and featuring some of its characters. Eternal Champions was added to the Wii's Virtual Console download service on December 3, 2007, where it became the first game to be rated 18 by PEGI in the service.
More games you may like...