Alex Kidd in the Enchanted Castle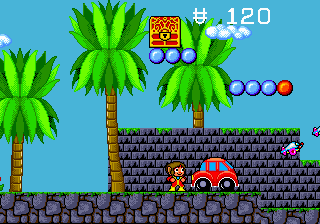 Alex Kidd in the Enchanted Castle
Date added: 2014-09-27
Tags:None
Rated the best by our players
5 out of 5 based on 3479 ratings.
Game Information:
Alex Kidd in the Enchanted Castle (アレックスキッド 天空魔城 Arekkusu Kiddo Tenkū Majō?) is a side-scrolling platform game developed and published by Sega for the Sega Genesis video game console. The game was released in Japan in February 1989, in the U.S. in January 1990 and in Europe on November 1990. It is the only 16-bit platform game starring Alex Kidd, and the fifth game in the Alex Kidd series of video games. Alex Kidd in the Enchanted Castle follows Alex as he fights his way through the fictional planet Paperock in search of his long-lost father, King Thor. Alex has access to several items and vehicles that help him complete his quest, including a motorbike, pedicopter, and pogo stick, which each give him unique abilities. While traveling through eleven worlds, Alex must defeat several opponents in rock-paper-scissors before finally finding King Thor.
More games you may like...