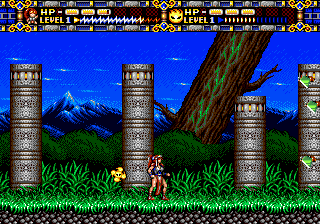 Alisia Dragoon
Date added: 2014-09-27
Tags:None
Rated the best by our players
5 out of 5 based on 936 ratings.
Game Information:
Alisia Dragoon (アリシア ドラグーン) is a 1992 platform game for the Sega Mega Drive/Genesis. It was developed by Game Arts, who also published the game in Japan. Aiding the software developer was animation studio Gainax, who was responsible for the game's art and story. The player controls Alisia, a young woman who is on a quest to avenge her father and save the world. She can fire lightning from her hands and summon four faithful beasts to aid her. The game was released in North America and Europe by Sega, who packaged the heroine as a rugged gladiator instead of the dainty-looking sorceress she originally was. Due to the lack of substantial market penetration by the Mega Drive of Japan and the lack of publicity for the game overseas, Alisia Dragoon did not make a big impact on the video game market, despite the critical acclaim it received. The game was one of the first in the industry to present a female character in a leading role.
SEGA MegaDrive / SEGA Genesis online emulator
Rated the best by our players
5 out of 5 based on 113 ratings.
More games you may like...