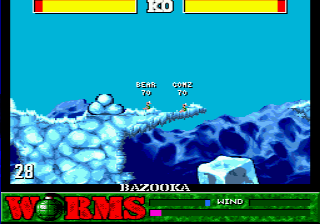 Worms
Date added: 2014-09-30
Tags:None
Rated the best by our players
5 out of 5 based on 4928 ratings.
Game Information:
Worms (ワームス) is a critically acclaimed turn based strategy game designed for the Commodore Amiga and ported to a variety of platforms including the Sega Mega Drive and Sega Saturn. It was the first in the series of Worms games, which continue to this day and still largely share the same gameplay as the original. The game involves the player controlling a team of worms, each supplied with a variety of different weapons, and the aim is to eliminate all the enemy worms. Worms was revolutionary at the time due to the randomly generated and fully destructaile landscapes that the game employs, so an explosion will leave a huge crater and a different strategy may need to be divised. As it is turn-based, the game allows up to 16 players to take control of units (though there is only ever a maximum of four teams).
More games you may like...