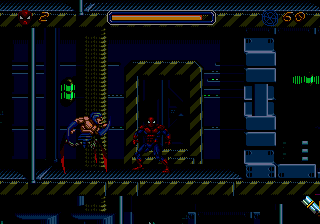 Spider-Man
Date added: 2014-09-30
Tags:None
Rated the best by our players
5 out of 5 based on 1887 ratings.
Game Information:
Though the Sega Mega Drive version of Spider-Man vs. The Kingpin was called just Spider-Man, Acclaim released its own game called Spider-Man for the Sega Mega Drive in 1995. This game is based on the animated series that aired around this time. A somewhat different SNES version was also released. Special red plastic versions of the cartridges also exist in North America. The game is a simple platformer. A punches. B jumps; Spider-Man can walk on ceilings by jumping on them. C shoots a bullet of web. Up+C shoots a string of web up to latch onto ceilings.
More games you may like...