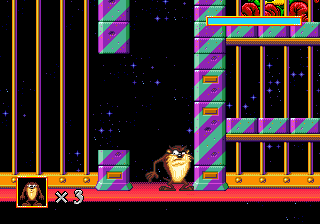 Taz in Escape from Mars
Date added: 2014-09-30
Tags:None
Rated the best by our players
5 out of 5 based on 1521 ratings.
Game Information:
Taz in Escape from Mars is a video game developed by HeadGames and released by Sega in 1994 for the Sega Mega Drive and Sega Game Gear featuring Taz, the Looney Tunes Tasmanian devil cartoon character. The Game Gear version was ported by TecToy to the Sega Master System and released in March 1997 only in Brazil. Taz must escape from Mars, where he was brought by Marvin the Martian. The game includes six worlds with two or three levels in each world.
More games you may like...