ToeJam & Earl in Panic on Funkotron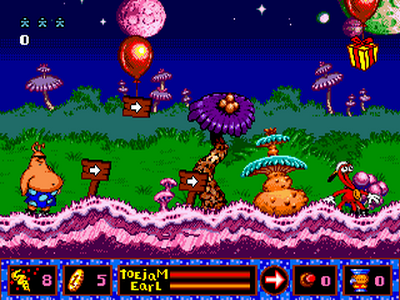 ToeJam & Earl in Panic on Funkotron
Date added: 2014-09-30
Tags:None
Rated the best by our players
5 out of 5 based on 1464 ratings.
Game Information:
ToeJam & Earl in Panic on Funkotron is a platform video game, developed by Johnson Voorsanger Productions and published by Sega in 1993 for the Mega Drive. The game is the sequel to cult video game ToeJam & Earl, released in 1991. The game concerns two alien protagonists, ToeJam and Earl, both of whom have escaped from Earth, where they had crash landed. After returning to their home planet of Funkotron, the duo discover a number of antagonistic Earthlings have stowed away on the spacecraft and are wreaking havoc across the planet. The player must hunt down these Earthlings and imprison them in jars before sending them back to Earth. The game's platform format was a departure from the original ToeJam & Earl, a treasure hunt game with randomly generated levels, inspired by the game Rogue. Creators Greg Johnson and Mark Voorsanger originally began designing a game built on the concepts of the original, but changed to a more generic type of game due to a lack of support for their vision on the part of Sega. The game was critically well received, with reviewers praising the graphics, soundtrack, fluid action and two-player mode. It was also a commercial success, but fans of ToeJam & Earl were disappointed and confused by the radical change in direction. Since its release ToeJam & Earl in Panic on Funkotron has been criticized for being too sharp a departure from the first game, and some later reviewers felt that the developers had been more interested in the publisher's wishes than the fans. Johnson and Voorsanger have stated they regret moving away from their prototype sequel in the vein of ToeJam & Earl. Research has suggested that a significant minority of fans favor ToeJam & Earl in Panic on Funkotron as the best in the series. Together with its predecessor, the game comprises one of the Mega Drive's "key exclusive franchises", which eventually spawned a third installment in 2002, albeit a commercial failure with mixed reviews. ToeJam & Earl in Panic on Funkotron was re-released in 2007 for the Wii's Virtual Console, receiving mixed reviews. The game was released on PlayStation Network and Xbox Live Arcade alongside its prequel in November 2012.
More games you may like...