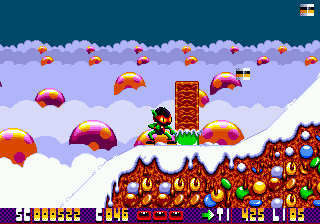 Zool
Date added: 2014-09-30
Tags:None
Rated the best by our players
5 out of 5 based on 13562 ratings.
Game Information:
Zool or Zool: Ninja of the Nth Dimension, known as Zool no Yume Bouken (ズールのゆめぼうけん) in Japan, is a platform game developed by Gremlin Graphics for the Commodore Amiga in 1992 as an answer to the 'mascot wars' of the early 1990s spearheadded by Super Mario and Sonic the Hedgehog. Zool's success saw it brought to a number of platforms, including the Sega Mega Drive, Sega Master System and Sega Game Gear during late 1993 and 1994. Zool is a relatively basic but fast paced platform game. B/1 makes Zool jump, while A/2 makes him attack. Jumping into a wall will allow Zool to climb up or down it. Level designs and choices of music differ between the Sega versions (although the latter is likely due to the fact the original Amiga version had no in-game tracks). Zool was followed by Zool 2 which was not brought to a Sega system.
More games you may like...