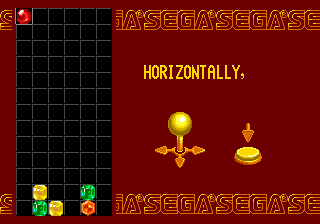 Columns
Date added: 2014-09-30
Tags:None
Rated the best by our players
5 out of 5 based on 7690 ratings.
Game Information:
Columns (コラムス en japonés, también llamado Jewels y Shapes and Columns en Brasil) es un videojuego arcade del género puzzle muy similar a Tetris. Fue creado en 1989 por Jay Geertsen (no Geertson, como se acredita erróneamente en la versión para Windows) de Hewlett-Packard para el X Window System. Nathan Meyers lo portó a DOS, Chris Christensen al Apple Macintosh. John Rotenstein creó la primera versión para Windows basándose en la versión de Christensen para Macintosh. También fue portado al Atari ST en el modo monocromo de alta resolución.1 En 1990 Jay Geertsen vendió los derechos a Sega que lo portó a sus plataformas arcade Sega System C-2 y Sega Mega-Tech y a casi todas sus videoconsolas, además de darle el aspecto visual de joyas.
More games you may like...