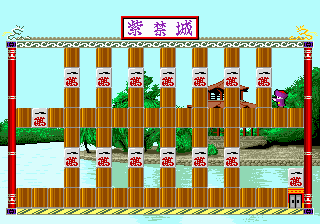 Shi Kin Joh
Date added: 2014-09-30
Tags:None
Rated the best by our players
5 out of 5 based on 270 ratings.
Game Information:
Shikinjoh or Shi Kin Joh or Shi-Kin-Joh or Shikinjou (or likewise) (紫禁城) is a 1989/1990 puzzle game by Scap Trust for the NEC PC-88 and NEC PC-98. Sunsoft ported it to the Sega Mega Drive and Sega Game Gear in 1991, with the Mega Drive version having added Sega Mega Modem capabilities. No version has left Japan. A version was later included with Sunsoft's Game no Tetsujin The Shanghai for the Sega Saturn. The goal of the game is to force your way to the exit by pushing mahjong tiles around. When two tiles with the same image meet, they disappear. Some tiles cannot be moved. You can only push tiles forward in the direction you are facing. C/2 goes back one move. A/1 opens a menu with various options (TODO). The Mega Drive version has several gameplay modes (TODO); the Game Gear version only has standard levels and a password system.
More games you may like...