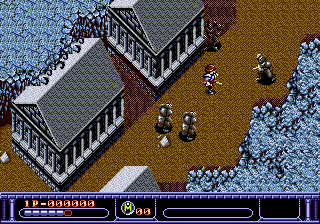 Arcus Odyssey
Date added: 2014-09-28
Tags:None
Rated the best by our players
5 out of 5 based on 568 ratings.
Game Information:
Arcus Odyssey is an action role-playing game video game developed by Wolf Team and released by Renovation Products. The game was released in 1991 for the Sega Mega Drive/Genesis, Sharp X68000 and Super Famicom. It features an isometric perspective and cooperative gameplay, as well hack and slash gameplay. It tells the story of four heroes trying to thwart the return of an evil sorceress. Arcus Odyssey is part of the Arcus franchise, which also included Arcus in 1988, Arcus II: Silent Symphony in 1989, and Arcus III in 1991. A North American version for the SNES was planned, but it was cancelled following Sega's acquisition of Renovation Products (American publisher for Wolf Team and Telenet games). It was released only in Japan with the title Arcus Spirits, and was also planned to be released in Europe by Loriciels.
More games you may like...