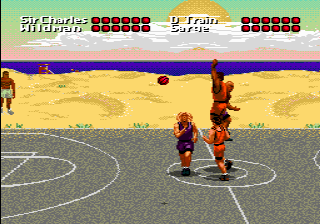 Barkley Shut Up and Jam!
Date added: 2014-09-30
Tags:None
Rated the best by our players
5 out of 5 based on 627 ratings.
Game Information:
Barkley, Shut Up and Jam: Gaiden[a] is a freeware role-playing video game developed by Tales of Game's Studios, presented as an unofficial sequel to Barkley Shut Up and Jam! and Space Jam. It features traditional JRPG-styled battles and dungeons. The player controls ex-NBA player Charles Barkley and a handful of secondary characters.[1] A host of ex- and current NBA players also feature as NPCs. The game's battle system, dubbed the 'B.A.B.B.Y. System,' is influenced by many commercial JRPGs.[2] Enemies appear on the game field and may run at the player and attack if the player moves into their line of sight.[3] Once a battle is initiated, each player has a number of attacks and skills they can use. Most attacks require multiple or timed button presses as in the Mario RPG series, and some of the attacks are accuracy-based, dealing more damage for more accurate hits. The characters can also be placed into healing, attack and effect battle roles, depending on their skill set.
More games you may like...