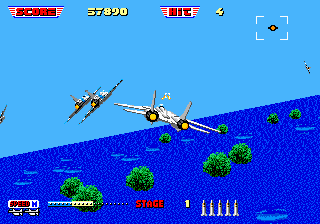 After Burner II
Date added: 2014-09-27
Tags:None
Rated the best by our players
5 out of 5 based on 3118 ratings.
Game Information:
After Burner II is an arcade-style flight game released by Sega in 1987. It is the second game in the After Burner series. In the game, players fly a F-14 Tomcat jet fighter, gunning down enemies while avoiding incoming fire. Like OutRun, another Sega arcade game, After Burner II came in several versions, the most famous being a large, servo actuated, sit-down cabinet which resembled a cockpit and moved according to the motion of the plane onscreen. The cockpit would bank in the same direction the on-screen aircraft was banking. There was also a more basic upright cabinet version. The differences between After Burner and After Burner II are very small, and it is easy to confuse the two. The differences included: The waiting-for-start sequence (the screen/music after a player inserts credits but before starting the game) is different. After Burner II added a throttle to the controls, allowing players to vary their speed while flying. After Burner has 18 stages; After Burner II has those same stages but adds three additional stages that make 21 stages total. After Burner II added a few minor enemy changes to introduce new speed-based challenges (missiles/aircraft behind the player aircraft) to account for the use of the new throttle control. The player's missiles in After Burner II could be fired considerably more frequently. Musical compositions were the same for both games, though After Burner's instrumentation is different in spots.
More games you may like...