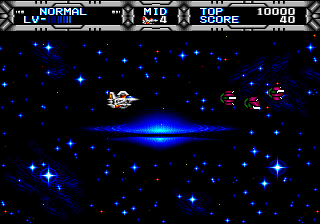 Gaiares
Date added: 2014-09-30
Tags:None
Rated the best by our players
5 out of 5 based on 647 ratings.
Game Information:
Gaiares (ガイアレス Gaiaresu?) is a 1990 scrolling shooter video game developed by Telenet Japan and published by Renovation for the Sega Genesis. The game was released in North America in 1990 and in Japan on December 26, 1990. Gaiares was released at a time when the shoot 'em up genre was immensely popular in the gaming industry; competition was fierce with franchised games like Thunder Force II, R-Type and Gradius, so the developers had to distinguish the game with a unique weapon system. The name is supposedly a combination of Gaia (mother Earth) and a shortened form/abbreviation of the word "rescue" (Res), which is the main objective of the battle taking place within the storyline.
More games you may like...