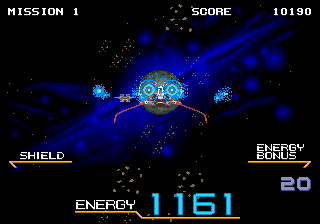 Galaxy Force II
Date added: 2014-09-30
Tags:None
Rated the best by our players
5 out of 5 based on 608 ratings.
Game Information:
Those evil aliens just will not stop. They always seem to think that they can get away with taking over planets that have been conquered fairly and squarely by Earth. So, just to teach them a lesson, the wily Earth armed forces are going to send out another barely-armed single-man fighter to destroy the entire alien operation. Being a bit of a thickie, you have, of course, volunteered to take on this highly dangerous mission against a massed enemy of a far greater technological level than yourself, to defend inhospitable planets which conspire against you with a variety of lethal natural hazards. Galaxy Force II is yet another in a long line of shoot 'em ups on the Megadrive. This time, the action is viewed in 3D from behind the craft, Afterburner style, and the player zooms around five different planets, destroying the alien stronghold on each one. This involves flying low over the planet surface blowing up all and sundry, then flying through a tunnel to reach the nerve centre of that particular planet. Destroy that, and it's onto the next planet for more death, destruction and devastation hi-jinks and frolics.
More games you may like...