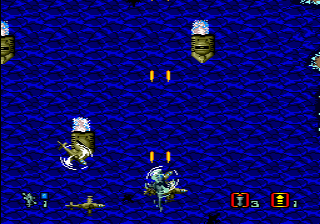 Super Airwolf
Date added: 2014-09-30
Tags:None
Rated the best by our players
5 out of 5 based on 1229 ratings.
Game Information:
Super Airwolf (スーパーエアーウルフ) is a 1991 shoot-'em-up for the Sega Mega Drive by A.I and Kyugo to tie into Universal Pictures's Airwolf television series and as a sequel to their 1987 arcade game Airwolf. However in the United States, they dropped the license and published the game as Cross Fire for reasons unknown. You can choose which of several missions to choose from a map. After choosing a mission, you can choose which shot type, gun type, and bomb to take with you on the helicopter, and you will then start the mission, A fires (hold for rapidfire). B drops a bomb. C activates the shield. After this routine, you have a short period in a larger ship just shooting at obstacles before landing, coming out of the plane, and moving around and shooting Commando-style.
More games you may like...