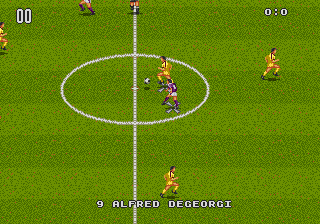 European Club Soccer
Date added: 2014-09-30
Tags:None
Rated the best by our players
5 out of 5 based on 1779 ratings.
Game Information:
European Club Soccer (known as World Trophy Soccer in North America and J-League Champion Soccer (Jリーグチャンピオンサッカー?) in Japan) is a 1992 soccer/football video game by Krisalis Software released for the Sega Mega Drive/Genesis and is mostly based on Manchester United Europe, released one year before for the Commodore Amiga, among other platforms. Like the previously endorsed game, European Club Soccer focus on European competitions, but with only on the European Champions Cup, which can be explained by the lower capacity of the console and the lack of differences between competitions other than the number of teams. If the player won the Champions Cup, the ending credits will only appear if the player beats a South American team in the Intercontinental Cup. The game was a bestseller in the UK charts for three months.
More games you may like...