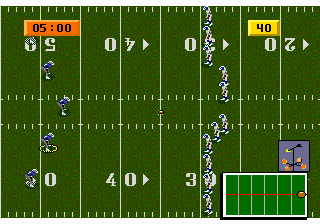 Joe Montana II: Sports Talk Football
Date added: 2014-09-30
Tags:None
Rated the best by our players
5 out of 5 based on 365 ratings.
Game Information:
Joe's back - now with simultaneous non-stop play-by-play announcing. Control the action on the field and listen to the running commentary from the broadcast booth. It's a whole new game of sound and sight! The field zooms to a dazzling 6X close-up when the players cross the scrimmage line. You see every slamming interception, flying tackle and smash through the defensive wall! Up close and personal! Team up with another guy - you're the quarterback, he's the wide receiver. Call your strategy with over 50 plays in rain/snow, on grass/artificial field. Wide view shows all your receivers at once.
More games you may like...