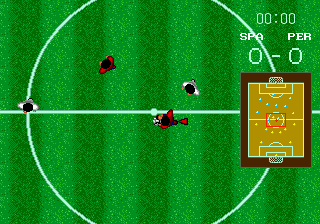 World Cup Italia '90
Date added: 2014-09-30
Tags:None
Rated the best by our players
5 out of 5 based on 23854 ratings.
Game Information:
World Cup Italia '90 is a football video game by Sega for Mega Drive and Master System released in 1990. This is the second World Cup official licensed franchise game based on the 1990 FIFA World Cup featuring the official logo and the mascot, the first having been the ill-fated and little-known World Cup Carnival for the 1986 FIFA World Cup. The game gives official groups, teams and the fidelity schedule of the championship. Gameplay occurs at a birds eye view. It was ported by U.S. Gold for DOS, Amiga, Atari ST, Commodore 64 and ZX Spectrum. The Spectrum version of the game went to number 2 in the UK sales charts, behind Manchester United.[2] After the World Cup, the game was released as World Championship Soccer and later renamed to Sega Soccer on the Mega 6 compilation cartridge on the Mega Drive removing the Virgin Mastertronic credits. In Brazil was released with the name Super Futebol II. World Cup Italia 90 sees the player given the choice of participating as any of the teams that featured in the tournament itself, and no qualifying tournaments to reach the World Cup are available on this game. Mega placed the game at #5 in their list of the 10 Worst Mega Drive Games of All Time, and awarded a score of 40%.
More games you may like...