Battletoads & Double Dragon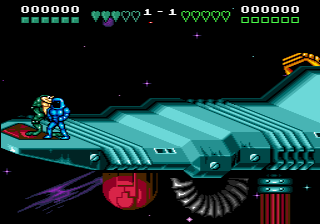 Battletoads & Double Dragon
Date added: 2014-09-30
Tags:None
Rated the best by our players
5 out of 5 based on 1744 ratings.
Game Information:
Battletoads & Double Dragon is a 1993 beat 'em up developed by Rare and published by Tradewest. It was originally released for the NES and later ported to the Sega Mega Drive/Genesis, Super NES, and Game Boy. The Ultimate Team is a crossover of both Technos Japan's Double Dragon and Rare's own Battletoads game franchises, although Technos had little or no credited involvement in the production of the game outside of the Double Dragon license. The game features the characters from the Double Dragon series, Billy and Jimmy Lee, two young martial arts experts; also included are the three humanoid toad protagonists from the Battletoads game. It is also the first Battletoads game to feature all three toads as playable characters. The game's engine and design are directly based upon the Battletoads series.
More games you may like...