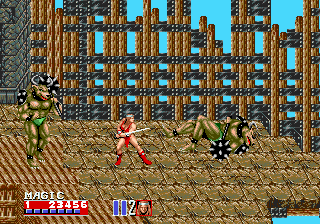 Golden Axe II
Date added: 2014-09-30
Tags:None
Rated the best by our players
5 out of 5 based on 4128 ratings.
Game Information:
Golden Axe II is a side-scrolling beat 'em up released for the Sega Mega Drive. It was released on December 26, 1991. It is the home console sequel to the popular game Golden Axe, marking the second game in the series, though the arcade did see a sequel of its own called Golden Axe: The Revenge of Death Adder a few years later. Golden Axe II was only released on the Mega Drive, while the original was released on many other platforms. The game later appeared in Sonic's Ultimate Genesis Collection for Xbox 360 and PlayStation 3 and as an iPhone port on iTunes. The three playable characters from the first Golden Axe, Ax Battler, Tyris Flare, and Gilius Thunderhead, return in Golden Axe II to save the people of the land by defeating the new evil clan, led by Dark Guld, and reclaim the Golden Axe, which is in his possession. The game features a total of seven levels: six scrolling levels and a final end of game boss battle against Dark Guild.
More games you may like...