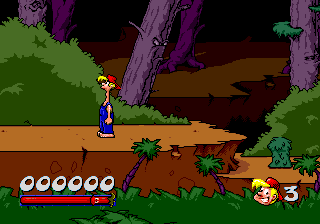 Bubba 'n' Stix
Date added: 2014-09-30
Tags:None
Rated the best by our players
5 out of 5 based on 649 ratings.
Game Information:
Bubba 'n' Stix is a 2-D side-scrolling platform game for the Mega Drive/Genesis, Amiga and Amiga CD32 developed and released by Core Design. The Genesis version was released by Tengen in the United States and featured a promotional tie-in with the Bubblicious bubble gum brand. The player controls Bubba, a redneck character, who is accompanied by a sentient stick named Stix. Stix can be used in various ways to help Bubba defeat enemies and get past obstacles: for instance, Stix can be thrust into a hole in the side of a platform so that Bubba can climb higher.
More games you may like...