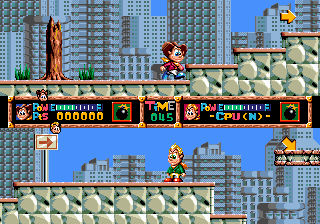 Dashin' Desperadoes
Date added: 2014-09-30
Tags:None
Rated the best by our players
5 out of 5 based on 599 ratings.
Game Information:
Dashin' Desperadoes is a platform game by Data East for the Sega Genesis released in 1993. In the game players control one of two cowboys, Will or Rick, who run and negotiate various obstacles to reach the maiden Jenny. Playing the game on Japanese hardware yields an alternate title, Rumble Kids, despite being never released in Japan. In 1993, Data East also released a Neo-Geo exclusive game titled Spinmaster featuring main characters similar to the ones in Dashin' Desperadoes. A sequel, Dashin' Desperadoes 2 (ランブルキッズ II) was released for PlayStation 2 using the Data East Player hardware. A Zorori CD version was planned but due to the add-on's failure this version was cancelled.
More games you may like...