Might and Magic II: Gates to Another World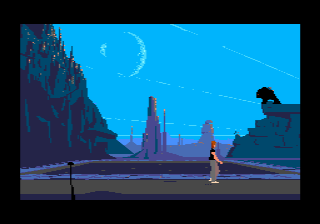 Might and Magic II: Gates to Another World
Date added: 2014-09-30
Tags:None
Rated the best by our players
5 out of 5 based on 1113 ratings.
Game Information:
Might and Magic II: Gates to Another World (also known as Might and Magic Book Two: Gates to Another World) is a role-playing video game. It is the sequel to the game Might and Magic: The Secret of the Inner Sanctum. After the events of Might and Magic 1, the adventurers who helped Corak defeat Sheltem on VARN take the "Gates to Another World" located in VARN to the land of CRON (Central Research Observational Nacelle). The land of CRON is facing many problems brought on by the encroachment of Sheltem and the adventurers must travel through CRON, the four elemental planes and even through time to help Corak stop Sheltem from flinging CRON into its sun. While in many ways Might and Magic 2 is an updated version of the original, the improved graphics help greatly with navigation, and the interface added several functions that facilitated gameplay, such as a "delay" selector which allowed for faster or slower response times, and a spinning cursor when input was required - all features lacking in Might and Magic 1.
More games you may like...