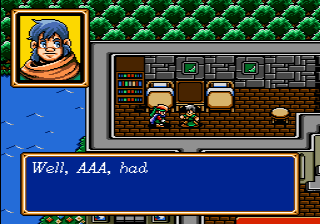 Shining Force
Date added: 2014-09-30
Tags:None
Rated the best by our players
5 out of 5 based on 3393 ratings.
Game Information:
Shining Force: The Legacy of Great Intention (シャイニング・フォース 神々の遺産 Shainingu Fōsu: Kamigami no Isan?, lit. "Shining Force: The Legacy of the Gods"), is a 1992 fantasy turn-based tactics role-playing video game for the Mega Drive/Genesis console. While primarily a traditional fantasy-themed game, it contains some science fiction elements. The game has been repeatedly re-released: in Sega Smash Pack Volume 1 for the Dreamcast and Sega Smash Pack 2 for Microsoft Windows, in Sonic's Ultimate Genesis Collection for Xbox 360 and PlayStation 3,[4] and as a standalone game for the Wii Virtual Console and Microsoft Windows via Steam. Additionally, in 2004 a remake was released for the Game Boy Advance under the title Shining Force: Resurrection of the Dark Dragon and in 2010 the game was released for iOS.
More games you may like...