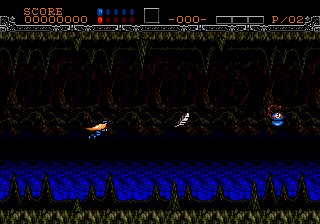 Gynoug
Date added: 2014-09-30
Tags:None
Rated the best by our players
5 out of 5 based on 443 ratings.
Game Information:
Gynoug (ジノーグ Jinōgu?), known in North America as Wings of Wor, is a 1991 scrolling shooter video game developed by Masaya and published by NCS Corporation for the Sega Genesis. The game was released in North America and Europe in 1991 and in Japan on January 25, 1991, and re-released on the Wii Virtual Console exclusively in Japan on May 20, 2008. The game sprites were designed by the sprite designer of legendary shooting title Cho Aniki, a game best known for its homoerotic overtones, wacky humor and vivid, surreal imagery.
More games you may like...