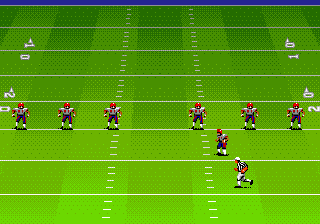 John Madden Football '92
Date added: 2014-09-30
Tags:None
Rated the best by our players
5 out of 5 based on 934 ratings.
Game Information:
John Madden Football '92, released as Pro Football in Japan, is a football video game. It features John Madden on the cover. Madden Football '92 is the sequel to John Madden Football. New aspects of this version include instant replay, two-player cooperative play, quarterback injuries, review and overturn pass interference calls, and more audibles. There are also new play modes, such as pre-season games, regular season games, playoffs, and sudden death. Quarter lengths have been adjusted in this version to be set at 5, 10, or 15 minutes. As in previous versions of the video game, there are no NFL or NFLPA licenses for authentic teams, player names, and stadia. Teams are organized by city name and colors. MegaTech gave the game 95% and a Hyper Game Award, saying that 'you'll enjoy it, even if you don't care much for the sport'. In October 1992, Mega placed the game at #1 in their Top Mega Drive Games of All Time.
More games you may like...